Welcome!
Have a question?  Contact us.
Advising
All undergraduate students that are currently majoring in Biology and have earned 60+ credit hours are required to meet with an advisor in the Biology program each semester in order to register for classes.
Undergraduate Research in Biology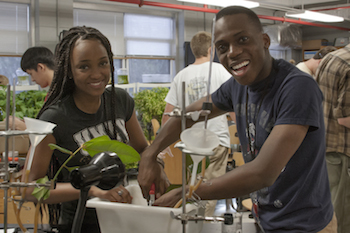 Undergraduates majoring in biology have the opportunity to enhance their learning through direct participation in research and scholarship. At UGA, these opportunities enable undergraduates to participate in ground-breaking research, often as part of a team of graduate students and faculty. In fact, many students can earn academic credit while working under an experienced faculty mentor by taking BIOL 4960 or working directly with the Center for Undergraduate Research Opportunities (CURO). The Biological Sciences Undergraduate Research Fellowship (BSURF) has been established to support undergraduate research opportunities in the Division of Biological Sciences within the Franklin College of Arts and Sciences. The Fellowship provides financial assistance to a student who has not had an opportunity to participate in a mentored research experience (paid, volunteer, or for credit) since matriculating to The University of Georgia.
Biology Major & Minor Curriculum
Learn more about the requirements of the major or the minor in Biology.
Biology majors also have the option to complete concentrations in both Marine Biology and Neuroscience.
Forms for the Biology Major
For undergraduate research agreements, Biology Major checklists, and other handouts, please see our list of forms.
Courses
Please see our list of courses offered through the Division. 
Biosciences Learning Center
The BLC is a computer lab located room 406 of the Biosciences Building, on the same floor as the lecture halls. We sell course packets and check-out textbooks.